Yesterday, someone I greatly admired passed on. Even though she had been suffering for a long time, it was a shock to hear the news. This was a woman it felt like a large portion of the fitness and cancer community was rooting for. Her light was so bright that even from afar, you could feel her energy. Her name was Brittany, and she was only 30 years old.
I try not to use my psychic abilities to intrude into other people's lives unless they give me permission to do so. There were times I wanted so badly to offer my services to her, but I stopped short. Not because I didn't want to, but because I didn't feel like she genuinely wanted to know. She was fighting a valiant battle against Ovarian Cancer, and she was calling the shots. It was admirable. She embraced her illness as just another part of her life. It didn't become her life. Like another appendage, her port became, "Natalie PORTman," something in her lung to help her breathe- Eva LUNG-ora joined the party a few weeks ago. She laughed, and gave us permission to laugh with her.
She documented relentlessly, and thousands of us checked her instagram and Facebook account daily. She danced before infusions, moon-walked down hospital corridors, and sang off-key to Avril Lavigne before panning the camera to her husband Rees who would join in.
She had a serious side, too. She posted her daily bible study, quoted the likes of Matthew and James and spoke of her faith in God leading her through. She was one of God's warriors, and proudly spoke about her faith and what moved her.
She led a fitness group and was active every single day. She credited her fitness to being able to fight Ovarian cancer as hard as she did. Before cancer, she climbed mountain peaks and lived for being outside. After cancer she still was outside, and tried valiantly to still climb those mountains.
About a week ago she took a trip in her and husband's new home- "Avril LaVan" (#vanlife ) into the mountains. She bravely walked across the Royal Gorge's bridge in Colorado and rode down America's highest zipline. Her Instagram video showed her smiling and yelling, "Weeeee!!" as she rode down. #getbusyliving, she hashtagged.
You couldn't help but smile at her tenacity, her lust for everything life had to offer. "Live Life on Purpose" was her slogan, and it was clear, she truly was. Each day, whether it was throwing a ball to her dogs, doing yoga under the stars, or watching a Texas sunset, Brittany lived each day with intention.
I couldn't sleep last night, her slogan stuck in my head on repeat. I thought about all of the times I absentmindedly scrolled through social media, or told my kids, "one more minute" when I was really meant, "no." How many sunsets have I missed? How many opportunities for joy have I denied because I have refused to be present? Brittany challenged all of us to say yes- yes to that workout, yes to that scary opportunity, yes to waffles and cheese dip. I realized that each time I say, "no" I'm denying something wonderful happening.
Yesterday before I heard the news, I had a scheduled baseline MRI at a local hospital. Being the day after Thanksgiving, I decided to wear my Santa cat onesie. I walked through the hospital, and saw people on gurneys, clearly in pain. I was in a rush for my appointment, but I couldn't deny noticing the sad eyes that seemed to be on the face of so many. Gratefulness flooded over me, knowing my test was simply just to record my body as it was now in an effort to help later on if there should be anything suspicious. I laid down for the MRI and the tech asked if I wanted any music during the 30 minute scan. "No thanks" I said, following it up with a joke about the MRI machine being quieter than my kids usually were. My thoughts drifted to Brittany and the hundreds of scans she had had. She openly talked about scan anxiety, and documented her listening to her favorite Christian singer during some scans, praying during others. It was only then that I realized I hadn't seen a post from hers in about 24 hours. It was an odd, split-second feeling that quickly left as I attempted to be present for the scan. I breathed, listening to the hum of the scan. Before I knew it, it was over, and I was once again strolling out of the hospital.
My friend and I had made plans to go Black Friday shopping after my scan, and as we met up she admired my onesie. It really did look ridiculous, but it made me happy. We walked into Goodwill ("Good People-Watching" my friend had said) and joined the other shoppers looking for bargains. I found a 2-foot-high Stormtrooper with a candy cane for $12-, and relished in the thought of how excited my kids would be.
It wasn't until I got home and finally was able to settle down that I heard the news of Brittany's death. I put my head in my hands and sobbed openly. I stopped to catch my breath only to notice how ironic it was that I was wearing my Christmas-cat onesie.
A couple of years ago around this time of year, I started getting very sick. I lost a lot of weight in a quick amount of time along with other scary symptoms. Drs were perplexed, and I found myself "Dr-googling." It was during that time I found Brittany. I reached out to her, asking her questions of her own symptoms and what else I could do to find answers. She encouraged me to keep pushing for answers. With support in hand, I faced the holiday season with uncertainty and fear. Test after test was run, and for awhile it looked like I might be on a similar path as Brittany and thousands of other women were on.
I spent a lot of time on the computer, zoning out. One of those times, I saw a onesie with cats wearing Santa hats. I remember laughing out loud at it, my first laugh in days. I immediately ordered the cat onesie. I would wear it as I struggled to eat more than a few bites of food. I would wear it as I stared at the Christmas tree, preparing for the worst. I would dance with the kids in it. It became my armour. It became my battle cry. I would find joy, even if I was scared. The Christmas Santa cats reminded me of that. By the time the first crocus started popping out of the snow in New England, my weight was starting to rebound and my symptoms started to subside. I continued to follow Brittany through social media, sending her the occasional funny dog meme and encouraging her with comments. I dedicated workouts to her, pushing harder than I thought I could, sending her healing vibes and love.
It was serendipitous that of all days to wear the cat onesie that reminded me to LIVE, it was the day that Brittany died. Without us even realizing it, Brittany was working in each of our lives even before she physically left. I honestly don't know if I would have had the courage to wear the cat onesie out before seeing an example of someone who lived with such intention as to own whatever silliness she was up to. This past September, I started singing Lizzo's "Good as Hell" complete with dance moves in a hotel lobby just because the song came on and I truly felt in that moment, "Good as hell"
Before I met Brittany, I would see women from afar rocking with confidence and admire them, wishing I could be more like them.
Unbeknownst to me in the process of knowing Brittany, I became one of those women myself.
I realize that now, yet I can't send her a message into her in box to thank her. Instead, I'll do it here, knowing and trusting that her spirit is still very much alive, and she will indeed get the message if I send it out into the Universe.
So, I thank you Brittany- for showing me how to truly LIVE with intention.
For reminding me to watch less TV and more sunsets.
For truly appreciating the body I have now- not the one I want or the one I had- but the one that right now is allowing my heart to beat and my lung to expand.
For pushing play every day on working out- even if it's just stretching.
For being brave and strong for so many, even when you knew you didn't have to be.
For teaching me that being silly is highly underrated.
Wherever you are looking down from, I pray that you are getting your taste of really good food right before you go and climb the mountains you've always wanted to keep climbing.
And I promise as scared as I am of heights, the next time I have an opportunity to zip-line, I'll will in your honor- and shout, "Weee!" all of the way down.
With love,
Nancy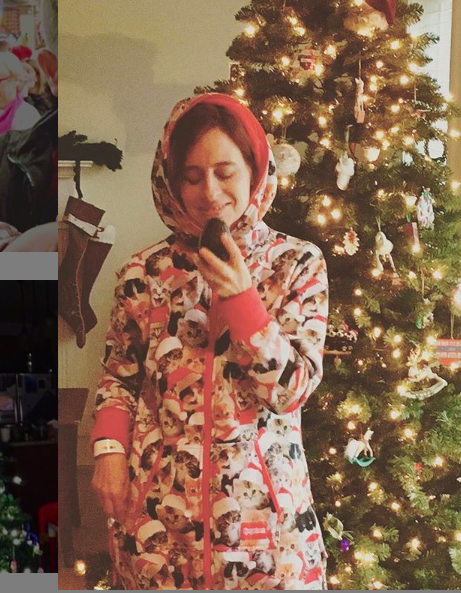 My cat onesie.